Whooohoo SNOW DAY!
For those lucky enough to be stuck in the house today, it's a great day for organizing, cleaning up & out, decorating, doing craft projects… Oh did I say projects?  Well now that we're on the subject….
Here was a favorite summer project of mine.  And let me tell you… this project is pretty easy (and cheap) to do! So if you could use one of these in your home… try this DIY out!
It started with a windowpane purchase from a flea market ($10).  Of course I can't find the original picture, but it looked almost identical to this one.  Now I was really lucky in that it came with OUT the glass, because it saved me a ton of time!
No flea market nearby? Click here to buy a used one for under $20!!
The wood was almost bare, with a hint of old white paint, which I actually liked.  I wanted to add a little bit of extra color, and decided to paint it with something called Distress crackle paint, in order to keep the "worn" look.  This stuff is super cool, and comes with a built in paint brush!
Make sure you check out Tim Holtz's tutorial video to see it in action!  FYI he starts talking at 00:41.
Now I knew I wanted to make the board magnetic, but instead of using plywood and painting it with magnetic paint (super pricey – at least $40 can!!!) I bought a sheet of steel from Lowes, precut to my specifications instead ($3).  Holy savings!

Thanks again Dad for letting me share your basement work space! 🙂
I then painted the steel with 3 coats of chalkboard paint.

(Home Depot, $10)
Now my dad *strongly* suggests priming the steel first… but I'm always in a hurry, so I didn't.  Totally up to you here.
Once dry, I secured the painted steel to the back of the windowpane using duck tape, to keep it nice and sealed.
Lastly, I added 3 knobs that I picked up at Anthropologie.  They have a FABULOUS collection of knobs and other hardware. Check it out! Although beware, these babies add up!   Here's what I went with: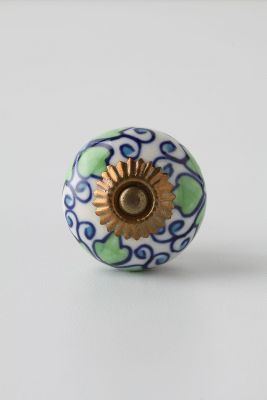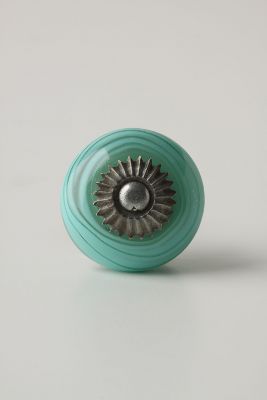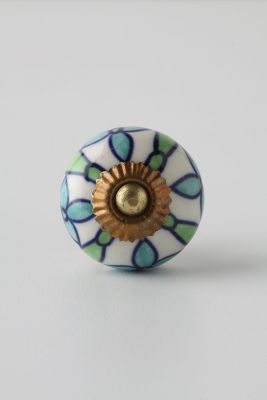 Once the knobs were screwed in, and a piece of wire was attached to the back of the board (for hanging)…. the final product was ready!!


Close up of crackle paint

Closeup of knob.
Now this is great for hanging coupons, photos, leaving love notes :), take-out-the-trash reminders, or just a place to display funky magnets.  The world is yours!
{Got any of your own DIY projects to share?  Send them my way!}