Thanks Beyoncé for your inspiration!  I know you're reading this 🙂
So… I love wood. (insert inappropriate remark here).
But seriously…. Every time I go to a flea market or tag sale, I am always drawn to their wood pieces, to use for storage.  I think it's a combination of my love for that worn, aged look, and that fact that each piece is always unique.
I love it…
For those who have little closet space in their home (insert 99% of you fabulous ladies out there), reclaimed wood boxes and crates are a great way to keep things organized and "away" while adding character to your home.  My own design aesthetic is more on the rustic side, which plays really well with the reclaimed wood look, however I also think it can work great for those with a more classic, and even modern style!  But see for yourself…

www.countryliving.com ($?)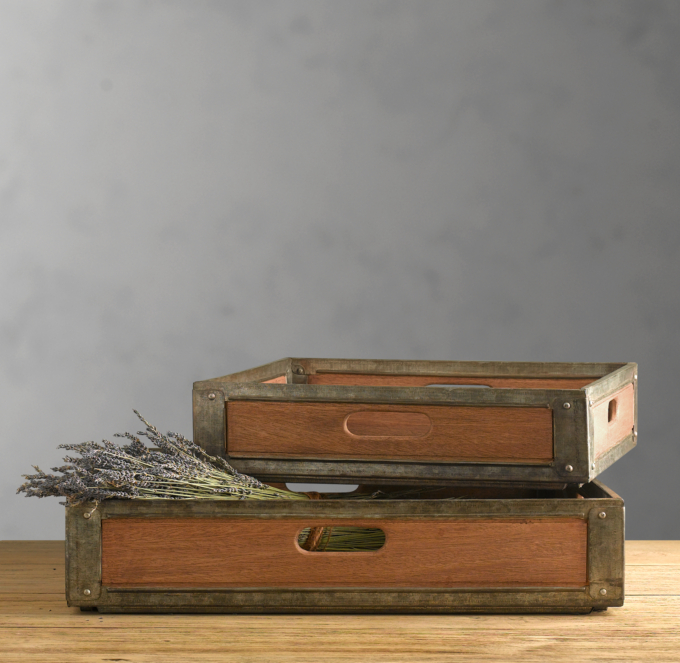 restorationhardware.com ($129-$199)

http://www.petittresor.com ($540)
Wood Pallets as Shelves. Brilliant!
etsy.com($65).  Seller Indian Summer Garden
I want it…
Most retail stores JACK up their prices for these.  I swear, the more rugged and used something looks, the higher the pricetag.  So your best bet is to peruse a local flea market, or even a yard sale.
Now if it's raining, snowing, or there is a Law and Order SVU marathon on TV – no worries, you can still score some good deals online!
Definitely start here:
1. Ebay.com
2. Etsy.com
3. Craigslist.org
No luck?  How about one of these?
http://remodelista.com/products/vintage-wood-crates ($15)
Hang on the wall vertically for knick-knack storage….
Or place on top of a cabinet, or shelf for bottles, spices, glasses, etc…
www.etsy.com ($25)
Quick, they're on sale!!!
www.potterybarn.com ($36.99-47.99)
If you find an untouched crate, use a stencil and black paint to give it an industrial label look!  ACMoore.com and Michaels.com always sell these crates unfinished, pretty cheap!  Learn how to do it from scratch! www.ana-white.com
Here are a few of my favorite wood pieces that I currently have in my apartment. Note: I have not spent more than $15 on any of these!

I use this piece for (what else…) storing booze!



From Jenny's HouseFullofPretty

Used to store magazines and craft books.
From Jenny's HouseFullofPretty

Beverage Storage Crate: Olde Hadley Flea Market ($15)
Used to store gym stuff (a.k.a collect dust)
From Jenny's HouseFullofPretty
{You like wood too? 😉  Send me a photo!}