Ikat: (pronounced "eee-kaht") A method of weaving that uses a resist dying process similar to tie-dye on either the warp or weft fibres.  The dye is applied prior to the threads being woven to create the final fabric pattern or design.
So it's not a new trend by any means, but I'm kind of obsessed with Ikat right now.
I love it…
I personally think Ikat is the coolest in pillow form:

2modern.com ($100),
accentshopping.com ($145)
designpublic.com ($58)
pillowsandthrows.com ($120)
kokocompany.com ($74)
claytongrayhome.com ($125)

It's an Ikat pillow orgy!  All from tabletonic.com.au ($75-100)

The colorfull Ikat patterns are also great in the kitchen…


http://www.moroccan-decor-furniture.com ($65)
www.anthropologie.com
Or the living room…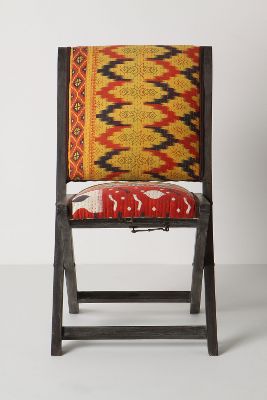 urbanoutfitters.com ($325)
anthropologie.com ($198)
I love this!!  Ceylon et Cie ($?? But I'll bet it's more than my rent)

vivre.com ($2,100)
www.tenthousandvillages.com ($48)
Ikat Wall Art:
I like these so much, I would totally steal them if I had a bigger purse.

www.NeimanMarcus.com ($550 each)
I want it…
So let's face it.. this stuff is really fun, but PRI-CEEEEY.  I originally thought about going the Ikat DIY route, but quickly found that the fabric alone is pretty expensive (about $25 – $60/yard).  After factoring in the fabric and pillow insert, it would probably cost the same to purchase a pillow if you could find a good deal!   I've done a lot of looking…. I mean A LOT…. but it's been well worth it because check out some of my cheaper finds to get IKAT ASAP!!


All from www.etsy.com (various designers) all under $50!
These babies are only $22!
www.oriental-creations.com ($22)
Here are a ton of covers for under $50!
I'm sorry, but this is brilliant:
You like?  Believe it or not – these storage boxes were colored with highlighters!  Can it get any cheaper???  
Instructions:http://www.examiner.com/how-to-home-design-in-new-york/how-to-make-ikat-inspired-storage-boxes
And last but not least… tell Nieman Marcus to screw it and get a similar piece for almost 1/7 of the price!  C'mon, you know you deserve it.

Both from www.allposters.com ($79, $49)
{Got more Ikat affordables?  Send them to me!}